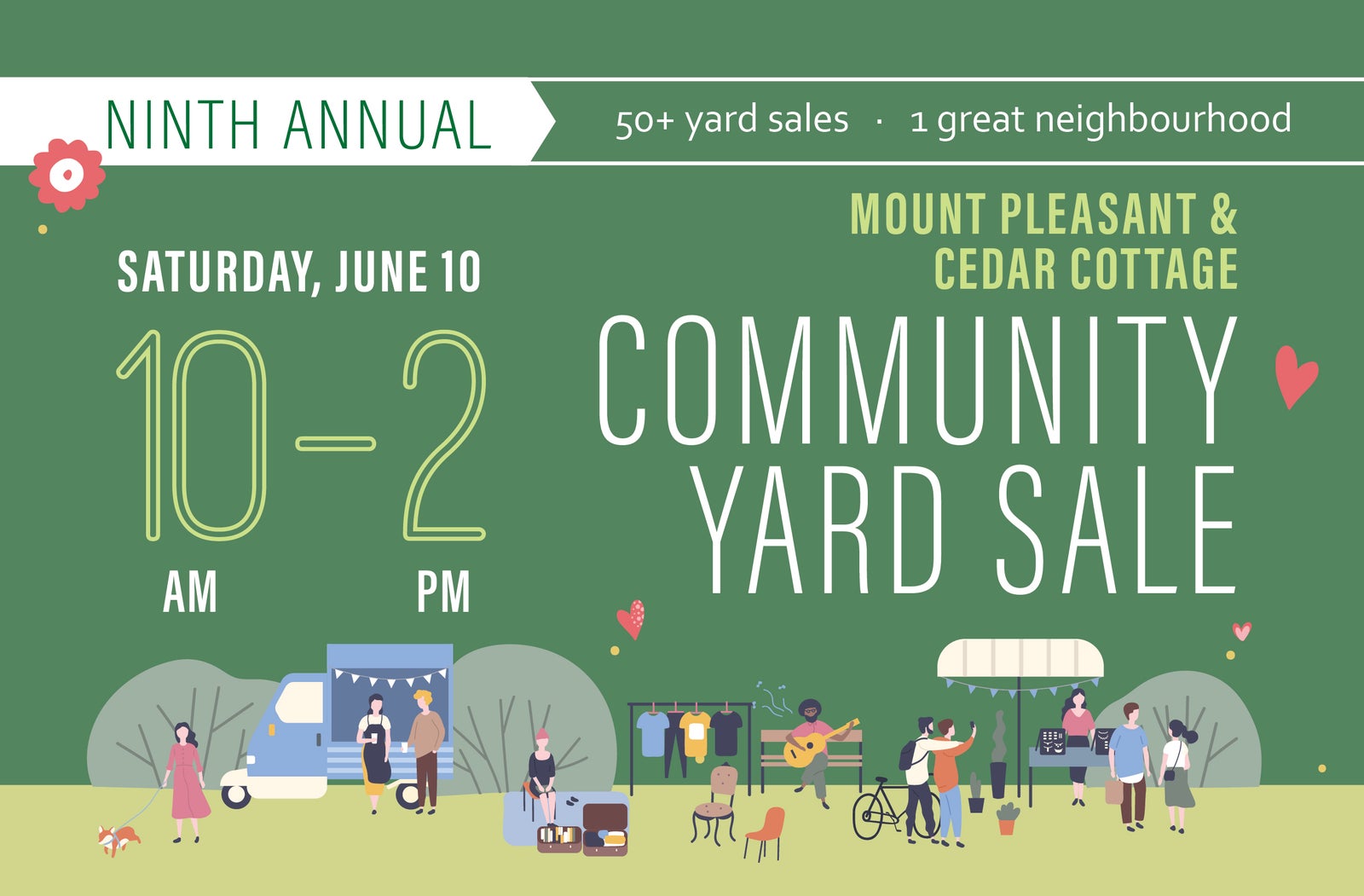 Friends and Neighbours!
Registration for our 9th Annual Mount Pleasant & Cedar Cottage Community Yard Sale is open!
Have you been thinking about fresh starts and sweeping away the covid cobwebs? Wanna make a little money at the same time reduce and recycle? Would you like to lean into your community a little more this year?
If you answered yes, this is the perfect event for you! 
This community event is taking place June 10th  (rain or shine) from 10:00 am – 2:00 pm. 
In years past 50 or more homes in the neighbourhood have set up a sale in their garage or driveway or lane. 
If you live in this community – between Guelph Street and Clark Avenue and East 10th Avenue and Kingsway  –  you qualify to 
register your sale
 and join in the FUN! We take care of all advertising and promotion leading up to the event and install many signs the morning of the event to drive as much traffic as possible to your sale! 
Once you register, no further action is required.  Just ensure your sale is ready to go 10:00 am the day of the event! 
A printable sale map for customers will posted here on our blog page and on our 
Facebook Page
 June 9th.
Tell your neighbours and get them involved! The more sales concentrated on one street or one block … the more buyers … and the more money in your pocket. 
Get the kids involved, and teach them the art of negotiation and fast math.  Other great money making ideas include selling lemonade, pizza, hot dogs or popcorn.  Collect funds and offer literature for a charity close to your heart or sell goods from your home based business.
Don't forget to pick up small bills and change prior to the event and make extra signage for your sale if located in the lane or at the back.
COMMUNITY, It's what we do!