The Vancouver housing market notched a 46% year-over-year increase in sales activity for the month of October. This marks four consecutive increases in sales volumes on an annualized basis. 
On the surface, the numbers look good and most would conclude the recovery is on and it's onwards and upwards from here.  However, the fundamentals behind those numbers suggest cautious optimism is warranted. We still have not solved affordability issues, and given the high levels of household indebtedness it remains uncertain how locals will be able to drive prices much higher, barring an easing in credit standards or another inflow of foreign capital.  
Rather, the recent uptick in housing activity appears more attributable to a number of local buyers stepping off the sidelines thanks in part to lower mortgage rates and home prices. The recent increase in sales has put a stop to rising inventory levels and thus, has also stemmed prices from falling further. We went from record low sales earlier this year to October sales finishing 10% above the ten year average. 
In other words, there's still a lot of volatility and uncertainty in the market today. 
Detached Sales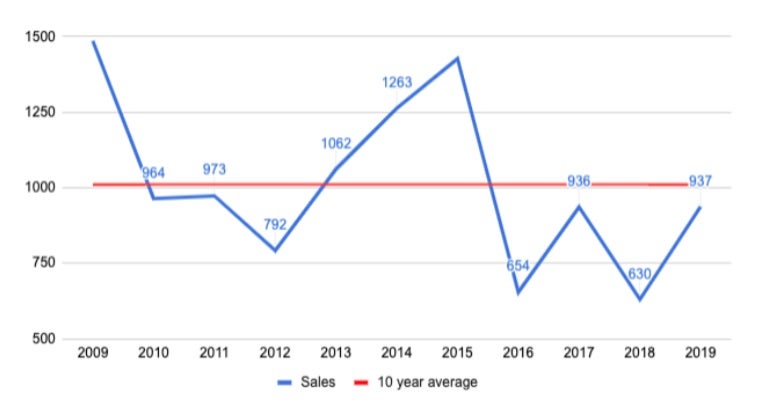 Detached sales surged 48% from last year. Sales picking up as sellers adjust their prices lower and buyers come off the sidelines. 
However, because of affordability issues, most of the increase in detached housing activity is concentrated in the lower end, more affordable segments. In some cases I am seeing multiple offers for entry level detached houses with basement suites. Meanwhile the high end of the detached market continues to suffer. 
Detached Sales to Actives Ratio by Price Range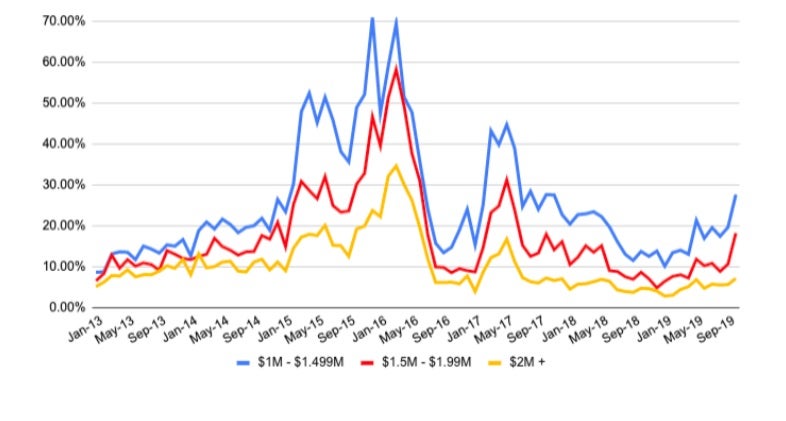 For example, here we can see that for detached homes priced between $1M and $1.499M has a sales to actives ratio of 27.6%. Technically indicating a sellers market. Meanwhile, for homes $2M and above the sales to actives ratio is a paltry 7%. If you're a buyer looking to spend more than $2M the options are plentiful.
Detached Prices Year Over Year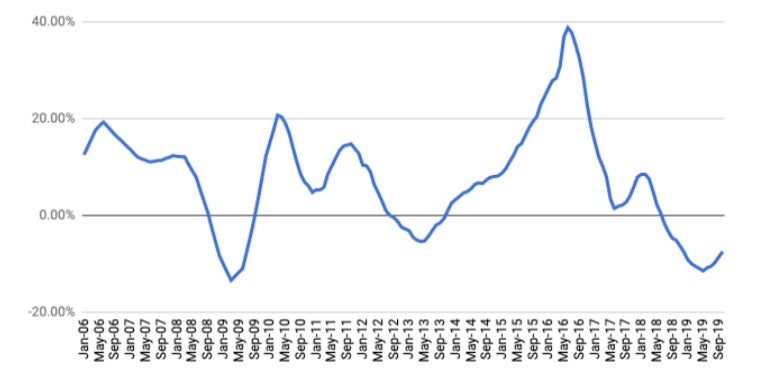 While it can be hard to pinpoint exact price declines by price bracket, what I can say for sure is that price declines are mostly concentrated in the high end of the market at this time. From a broader perspective detached prices across Greater Vancouver fell 7.5% year-over-year, although the pace of those declines is easing.
The pace of price declines is easing in part because new listings remain subdued. Sellers are not listing their homes for sale. New listings fell 17% from last year prompting months of inventory to fall to 5.8. This is the lowest number since June 2017 and is indicative of a balanced market.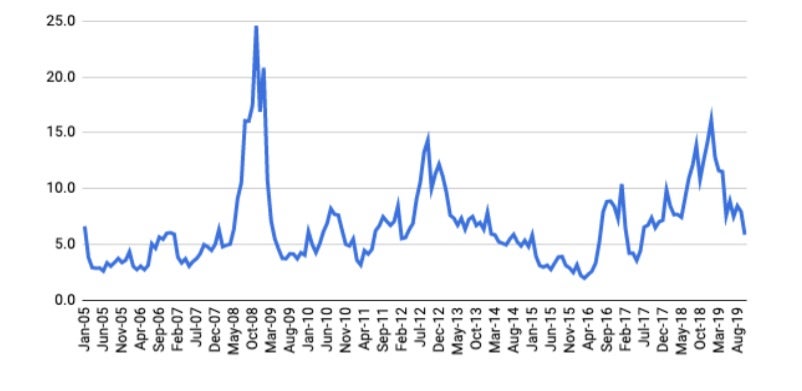 To summarize, the detached market remains soft at the high end, particularly anything above $2M. However, the market looks much more balanced once you get below that. Inventory will need to grow to see further price declines.
Condo sales bounced 41% year-over-year in October, a steep increase following an unusually weak October 2018. When we adjust for these big fluctuations we can see that sales this month were slightly above the ten year average, suggesting a healthy condo market.
​
Condo Sales for October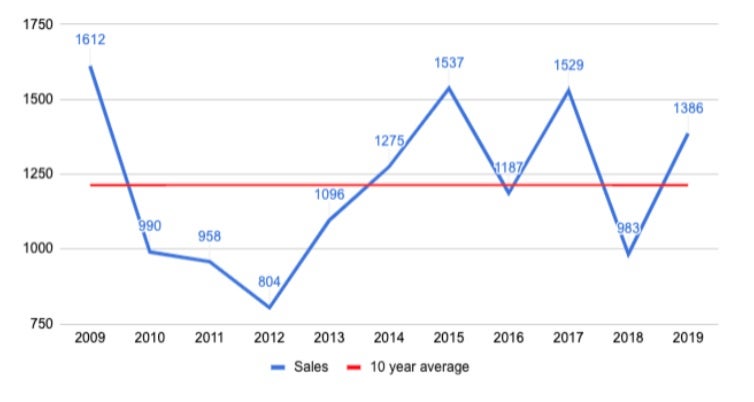 Condo Annual Price Change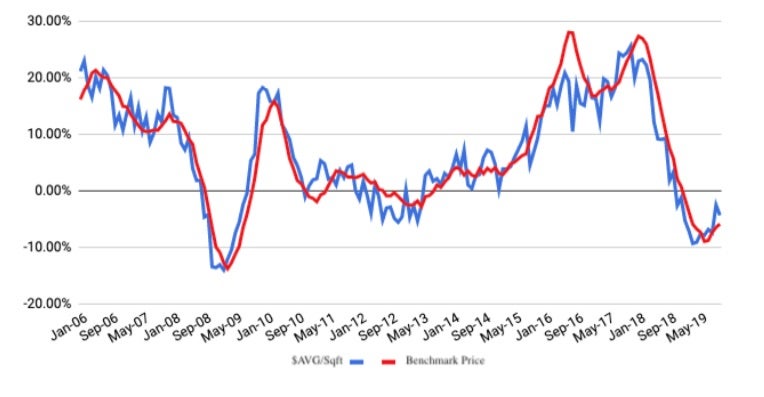 The main reason condo price declines are easing is a decline in inventory. Inventory growth was trending higher for the past year but has since reversed in recent months due to rising sales and a decline in new listings as sellers hold off from listing their units. As of the end of October there was just 3.4 months of inventory for sale. It is close to impossible to see a sustained decline in prices when inventory is in this range. It needs to grow above 5 or more to see downwards pressure on prices.
Condo Months of Inventory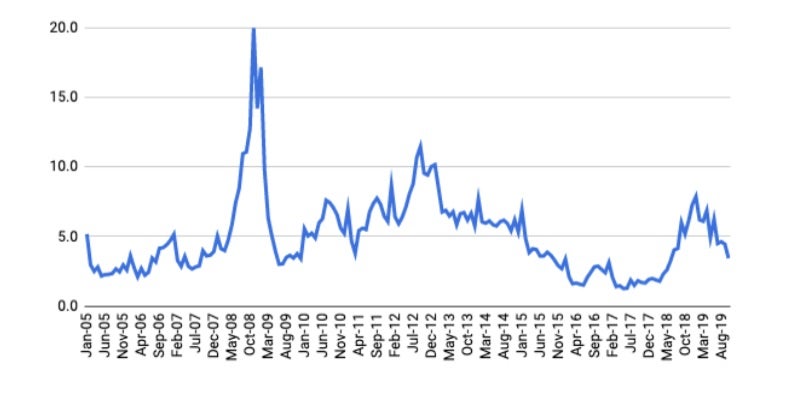 Despite the decline in inventory we still believe months of inventory should turn higher in the year ahead given there is a record number of new condo units under construction, and we expect completions to begin ramping up next year.
Condos Under Construction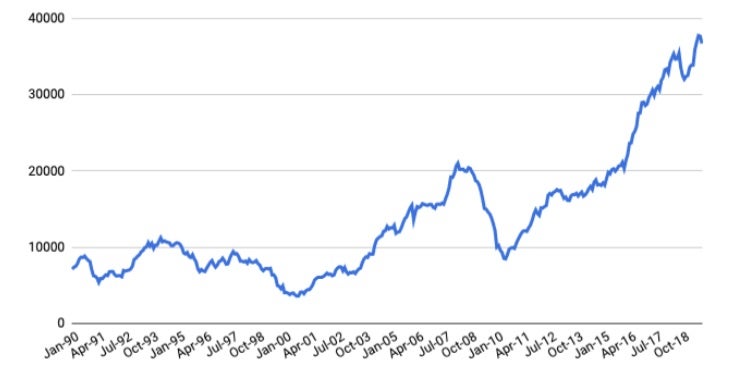 In summary I find the condo market is in good shape. Entry level condos are once again fetching multiple offers but as soon as prices start to creep up we are seeing some softness. Overall, inventory remains low, and this is keeping prices relatively flat for now. I suspect inventory could actually fall further in the winter months before eventually turning higher once again in the New Year.
Summary
October brought another positive month for the Vancouver housing market. The increase in sales activity and moderation in price declines has eased concerns over a potentially ugly downturn. However, to suggest it is smooth sailing from here is rather premature and there are still risks to the downside. 
Indeed financial vulnerabilities still exist and so too does the mortgage stress test following the re-election of the Liberal Government. Now we are left wondering if the Trudeau Government will indeed follow through with campaign promises which included a nationwide 1% annual empty homes/ speculation tax and an expansion of the first time home buyer incentive program in Vancouver, Victoria and Toronto. If the program expands in Vancouver it could arguably make supply issues worse. The program proposes to increase eligibility up to a maximum purchase price of $790,000. As of the end of October there was just 2.7 months of inventory for sale for homes in Greater Vancouver below $790,000. Adding more demand (Government subsidized loans) at this point would only go to benefit the sellers in the form of higher prices.
The loan could, however, provide a boost to property developers who are still enduring a sluggish pre-sale market. Investors, who are a key factor in driving sales at pre-sale centres, have been skittish to return. 
Developers are proceeding with caution, and job layoffs have been noted. 
Will this begin to weigh on the BC economy? One would think so. Recent data from Stats Canada shows the BC labour market has contracted for four consecutive months as of the end of September, the first time doing so since 2012/2013. About 9% of the BC workforce is employed directly in construction so this is an important space to watch moving forward.